The anime adaption of Etotama (えとたま<?) began airing on 9th April, 2015.
Director: Fumitoshi Oizaki
Series Composition: Deko Akao
Original Concept: Takashi Hoshi, Tooru Zekū
Original Character Design: Akio Watanabe ("adult" version), QP:flapper ("pretty" version)
Character Design: Asami Takahashi ("pretty" version), Satoshi Koike ("adult" version)
Chief Animation Director: Satoshi Koike
Cgi Director: Daisuke Hirakawa
Hiro Shimono as Takeru Amato
Rie Murakawa as Nyaa-tan
Sayaka Ohara as Chu-tan
Ari Ozawa as Uma-tan
Eriko Matsui as Mo-tan
Hitomi Nabatame as Shaa-tan
Maaya Uchida as Dora-tan
Mai Fuchigami as Mei-tan
Mariko Honda as Inu-tan
Megumi Toda as Ki-tan
Mikoi Sasaki as Piyo-tan
Yuiko Tatsumi as Shima-tan
Yuka Aisaka as Usa-tan
Yumiri Hanamori as Uri-tan
No
Title
Original Air Date
1
The Exuberant Cat Girl
(

猫娘揚々

Nekomusume yōyō)
April 9, 2015
2
A Strange and Loving Ox Relationship
(

愛縁奇牛

Aien ki ushi)
April 16, 2015
3
Reckless Heart
(

亥突猛心

Chototsu mōshin)
April 23, 2015
4
Eyes of a Rabbit, Ears of a Rabbit
(

兎目兎耳

Tomoku Toji)
April 30, 2015
5
Nutritious Sheep Fortifacation
(

滋羊強壮

Shigeru hitsuji kyōsō)
May 7, 2015
6
The Three Laughers of the Tiger's Scheme
(

虎計三笑

Tora kei san Emi)
May 14, 2015
7
A Long, Serpentine Fate
(

縁縁長蛇

En en chōda)
May 21, 2015
8
An Equestrian Fit for a Cat
(

一騎当猫

Ikkitōsen no neko)
May 28, 2015
9
The Beauty of Flowers, Bird Steps, and Moon
(

花鳥歩月

Kachō hogetsu)
June 4, 2015
10
Eternal Pervert
(

永久変態

Towa Hentai)
June 11, 2015
11
Cat/Rat Shuffle
(

猫鼠異道

Nekonezumi i michi)
June 18, 2015
12
Eto In Full Bloom
(

干支繚乱

Eto ryōran)
June 25, 2015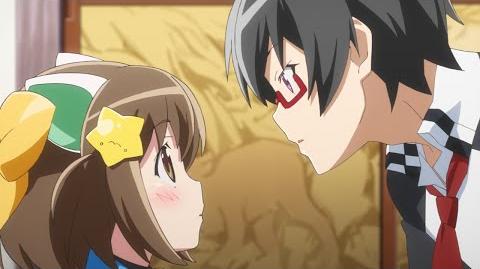 TV anime "Etotama" PV.
Ad blocker interference detected!
Wikia is a free-to-use site that makes money from advertising. We have a modified experience for viewers using ad blockers

Wikia is not accessible if you've made further modifications. Remove the custom ad blocker rule(s) and the page will load as expected.